KUCHING
Monday, 19th April 2010
A
ccording to Tuan Guru Nik Aziz, Parti Keadilan Rakyat is a new party or he described it as a new born baby that is just about to learn crawling. I am in the same opinion with tuan guru therefore the decision of some of the PKR politicians that joined UMNO or declared themselves as an independent politicians did not surprise me.
Since the 12th General Election, PKR has lost several members be it the assemblymen or allies or the friends of Datuk Seri Anwar Ibrahim (DSAI). The exodus of PKR assemblymen or ordinary members or leaders defection began with the Perak "frogs" Behrang assemblyman Jamaluddin Mohd Radzi and the disgraced ex-army officer Changkat Jering assemblyman Mohd Osman Mohd Jailu (Kapten (B) Mohd Osman Mohd Jailu, I dont think he is fit to carry the Kapt (Bersara) title) and followed by Lunas assemblyman Mohd Radzhi Salleh, Port Klang assemblyman Badrul Hisham Abdullah and former Penanti assemblyman and former Penang Deputy Chief Minister I Mohammad Fairus Khairuddin.
Another PKR assemblyman, V. Arumugam (Bukit Selambau) had also quit the party in April last year due to personal marital issues. He had contested as an independent in March 2008 but subsequently joined PKR.
Over the past few weeks, the spate of defections from PKR shifted to MPs this time, with Bayan Baru MP Datuk Seri Zahrain Hashim leading the fray, followed by Nibong Tebal MP Tan Tee Beng and followed by Mohsin on 2nd March 2010. And the latest politician that left PKR was Datuk Dr Halili Rahmat the Hulu Selangor PKR Treasurer.
If we look carefully at their backgrounds, we will noticed that most them are mentally not fit and financially not stable, thus very easy to be manipulated by Barisan Nasional or UMNO.
My chit-chat via Facebook with one of my friend in Kuala Lumpur about the issues affecting PKR, according to him most of the PKR politician that quit PKR were the ex-UMNO members who are opportunist and only join politic for position and monetary gain.And according to him what happened to PKR now is a process of cleansing the party from all the disloyal ex-UMNO members. Once the party is cleared from these weak politicians, PKR will wake up again, and become one of the strong, if not the stronger party in Malaysia.
Talking about the Hulu Selangor by-election, according to a friend of mine also, UMNO or BN may be able to cheat the non-educated and elder voters but the educated and younger voters will still supporting PKR. He further added that eventhough at this moment rthe chances of winning for both parties is 50-50 but the vote by younger voters which only going to prevail during the polling day could mean that the BN candidate will be sent into the drain. He even predicted that the PKR candidate this time will win with bigger majority.
Being far away from Hulu Selangor and not able to help campaign for PKR candidate, I am praying to god that Datuk Zaid will win this election and pave a way for the taking over of Putrajaya from corrupted BN government.
I concluded, those PKR politicians that defected to UMNO or Independent are the opportunists and only join politic for money and position. UMNO being the most powerful and corrupted party is capable of buying those opportunist politicians at any cost. MACC should pay attention to UMNO dirty politic. And let's see the faces of all the PKR defectors, the traitors and the liars!
ALLIES of Anwar

1. Ezam Mohd Noor
- quit UMNO in 1998, joined PKR
- former PKR Youth Chief (1999-2005)
- former Political Secretary of Anwar Ibrah
- Gerakan Demokrasi dan Anti Korupsi (GERAK) Chief
- Was jailed for 2 years under OSA, arrested under ISA
- fought for Anwar with demonstrations and political speeches
- left PKR and rejoined UMNO (May 2008)
2. Anuar Shaari
- former MoF officer
- worked for Anwar (1996-1998)
- once contested under PKR's ticket

3. M Nallakaruppan
- Anwar's very close ally
- tennis partner of Anwar
- once said that Anwar received RM 60 mil of Magnum money from him
- former Kepong PKR Chief
- quit PKR in 2007, formed MIUP
ELECTED REPRESENTATIVES who quit the Party (since 2008)

The two stooges that responsible for the fall of Pakatan government in Perak
1. Jamaluddin Mat Radzi - ADUN PKR Perak (Feb 2009)
2. Mohd Osman Mohd Jailu - ADUN PKR Perak (Feb 2009)
3. Mohd Radzhi Salleh - ADUN PKR, Kedah State Exco (Aug 2009)
4. Badrul Hisham Abdullah - ADUN PKR Klang (Oct 2009)
5. Zahrain Hashim - MP PKR Bayan Baru (Feb 2010)
6. Salehuddin Hashim - PKR National Secretary General (March 2010)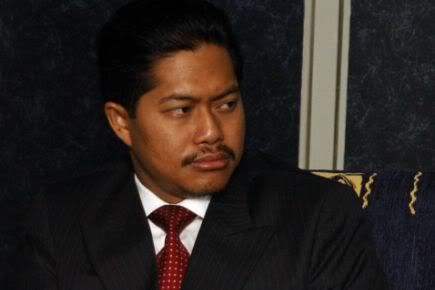 7. Mohd Fairus Khairuddin - Former Penang Deputy Chief Minister (March 2010)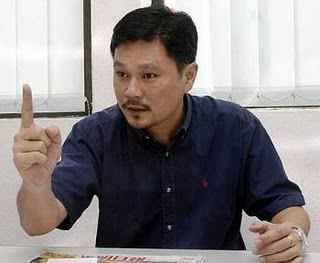 8. Tan Tee Beng - MP PKR Nibong Tebal (March 2010)
Mupok Aku